Modern bathroom set with White Vanity Unit, Back to Wall Toilet, and Sink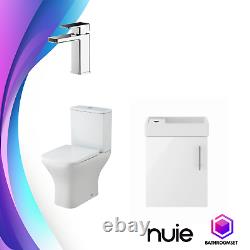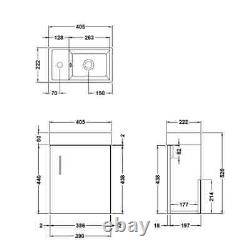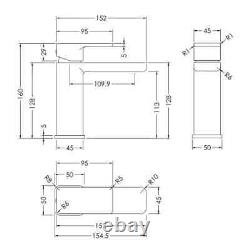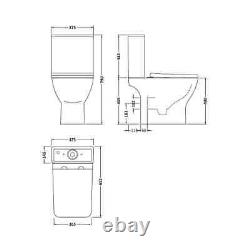 Create a Spacious and Stylish Bathroom with the Wall Hung Vanity in White. Maximize your bathroom space and create the illusion of a bigger bathroom with our Wall Hung Vanity in White. This sleek and modern unit is designed to provide functionality while adding a touch of contemporary style to your bathroom. The soft-close door of the vanity ensures a quiet and gentle closing action, limiting daily wear and tear. Experience a serene bathroom environment and enjoy the convenience of smooth operation with this thoughtful feature. Complete Package for Your Bathroom. This unit is supplied with high-quality fixtures to complete your bathroom ensemble. Included are a high-quality china basin, a rimless pan, a cistern, and a soft-close seat, ensuring a cohesive and functional setup. Additionally, a stunning contemporary basin tap and waste are also provided, adding a touch of elegance to your bathroom décor. Crafted by Nuie, a trusted brand known for its quality and reliability, this Wall Hung Vanity is constructed with precision and care. The rigid construction, combined with the use of durable materials, ensures long-lasting performance. The 18mm Mfc Textured Matt cabinet material finish and fascia material finish not only provide durability but also exude a white aesthetic, adding warmth and charm to your bathroom. With no assembly required, the Wall Hung Vanity is ready to be installed in your bathroom effortlessly.
The rigid construction and cam & wood dowel construction method guarantee a sturdy and secure installation. The wall-hung design not only creates a sleek and modern look but also allows for easy cleaning and maintenance. The contemporary bar handle adds a touch of style and functionality to the vanity.
The 95 Degree Soft Close hinges ensure smooth and controlled movement. With compact dimensions of 400mm in width, 440mm in height, and 222mm in depth, this vanity is designed to fit in even the tightest spaces while providing ample storage for your bathroom essentials. Rest easy knowing that the Wall Hung Vanity is crafted using FSC certified materials, reflecting our commitment to sustainable practices and environmental responsibility. Upgrade your bathroom with the Wall Hung Vanity in White. Experience the perfect blend of style, functionality, and durability, and transform your bathroom into a space of relaxation and elegance. This wall hung vanity creates more space in your bathroom giving the illusion of a bigger bathroom.
This unit has a soft close door which limits daily wear and tear and provides a quieter closing action. Supplied with high quality china basin, rimless pan, cistern and soft close seat. Stunning contemporary basin tap and waste included. All dates are estimated until the item is back in stock.
We define the UK mainland as England, Wales, and most parts of Scotland below the central belt. We rely on third-party carriers, often specialist courier services or vehicles directly affiliated with suppliers, to handle our deliveries.
If an order contains multiple items, it may be delivered by different carriers, and we cannot guarantee that all items will arrive simultaneously or on the same day, although we strive to make it happen. Please note that any re-deliveries due to your unavailability may incur additional charges. All our deliveries are one-man, kerb-side services. Therefore, we highly recommend conducting a thorough inspection of the items immediately afterward, prior to storing them. We strongly advise performing a comprehensive inspection as soon as possible to identify any damaged, incomplete, or faulty items.
When all the specified conditions are met, we will arrange for the replacement of incorrect or damaged items at no additional cost. Please note that collection of certain damaged items, such as broken glass, may not always be possible, and you may be requested to dispose of them separately. We recommend refraining from booking any tradesperson(s) to install items until you have received the complete order and thoroughly checked its contents. Please avoid attempting to install damaged or faulty items and keep them in their original packaging whenever possible.
Therefore, we strongly advise ensuring that this product is exactly what you want before placing your order. It is your responsibility to return the goods in pristine condition, in their unopened original box. You will be responsible for the return cost and ensuring the safe return of the goods. Failure to return the goods within 7 days after notifying us of your cancellation may result in us arranging the collection of the item from you and charging you for the collection. Once the goods are delivered and you sign for them, they become your responsibility. It is essential to CHECK the items upon receipt. Although breakage during transit is rare, if you believe an item is broken, DO NOT SIGN for it. The driver will return it to us, and we will promptly dispatch a new one. We cannot be held accountable for broken or missing parts after this timeframe.
Checking Goods for Damage and Notifying Us. By failing to notify us within the specified timeframe, you agree to indemnify us fully for any losses we incur.
If someone else signs for the goods on your behalf, you agree to inform them to check the goods thoroughly, and you accept full responsibility for any loss or damage if they sign on your behalf without inspecting the goods.