Vintage Gold Filigree Vanity Mirror &/Or Tray Ornate Brass Velvet Back WithEasel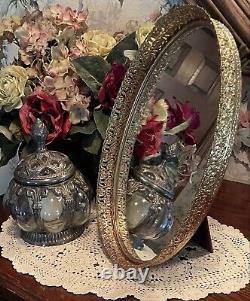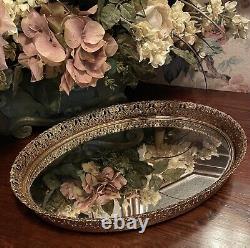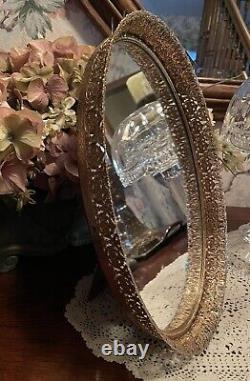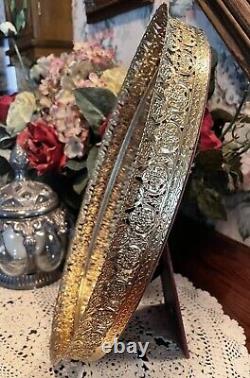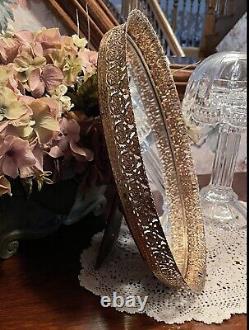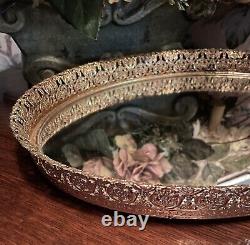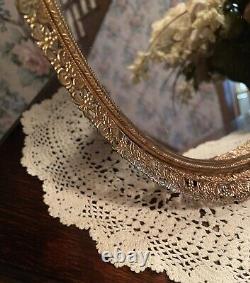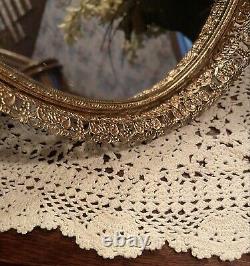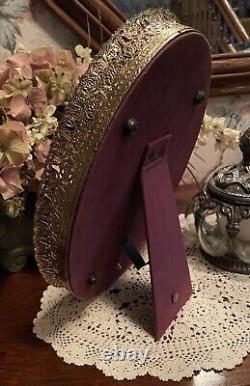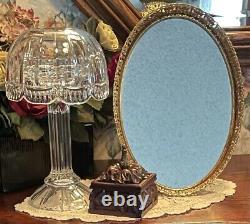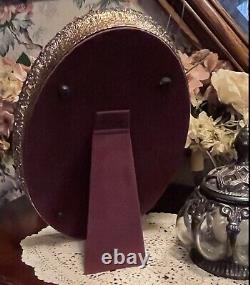 This beautiful oval shaped vanity mirror and tray is made of brass with an ornate gold filigree design all around the mirror glass. The backing of the mirror is dark burgundy velvet with an easel stand also in the same color velvet. A black ribbon attaches the easel to the mirror backing.
There are also four black pegs on the burgundy velvet backing to use the mirror as a vanity tray instead of standing. There is a gold snap closure attached at the bottom of the velvet backing with a hole on the bottom of the easel to hold the easel in place while the mirror is laying down. The dimensions of the vanity mirror and tray are 9 3/4" long, 13" high, and it is 1 1/2 wide. With the vanity mirror fully open, it is 6 1/2 wide.
This vanity mirror and tray is from the late 1960's to early 1970's and is in wonderful vintage condition. There is a small area of discoloration to the brass on the bottom right side and very slight cloudiness to the mirror glass in the upper left side but overall condition is very good. There are no chips, cracks, black markings or scratches to the mirror glass and there is no damage to any of the brass filigree. There is no damage to the velvet backing or easel.
Please refer to all photos. This is truly a gorgeous vanity mirror, either used standing with the easel or as a tray for perfumes and small treasures and would look lovely on a vanity or dresser. Would also look beautiful on an entry table as shown in the photos.